Every year as most of you know we post a summary of activity pre-spring for your consideration. Cannon Beach Oregon real estate market numbers, like the entire north coast, were extraordinary last year. This year we expect pressure will continue at an all time high. We will provide the results graphed for clarity below but needless to say it was and remains a
Sellers Market
.
Cannon Beach was under intense buyer pressure in 2020. Here are the high points from last year.
The Absorption Rate in Cannon beach is low but beginning to rise. The Absorption Rate is the how long the current inventory will last at the current rate of sales. While it is down a massive -62.32% to 1.59 months inventory from 4.22 months supply in 2020 it is slowing rising. Buyers put heavy pressure on the Cannon Beach market from July through the end of the year as is normal. For reference any rate under 6 months is Seller territory.
The Average List Price was up by 6.65 percent. This is a very different result from Gearhart to the north where most luxury properties were held off market last year as owners themselves fled urban areas. It's also notable that the average sales price in Cannon Beach was up 17.5% to just under at million at 979K.
The Sold to List Ratio was typical for Cannon Beach averaging 94.7%. It's worth noting that Cannon Beach is the only community that did not see months where the average sales price was over 100% of list.
As is the case every year, ill advised Cannon Beach sellers left money on the table. Our clients did not. We averaged 2.3 points over our competitors outcomes this year. A bit less than the year before but let's face it. 2.3 points on 975k is still a nice vacation.
The Average Days on Market dropped from 254 for premium priced properties to 73 days or a whopping -71%. Market pressure really varied and was not necessarily in line with inventory.
Unfortunately for buyers, the number of active homes on the market year over year is down 52% from this time last year. While spring usually shows improvement here, we will have to wait and see.
If you are looking for a home in Cannon Beach, one thing is clear, you need quality representation and immediate real time notification of any property that comes to market, which we can provide as an alert. Call us and let us assist you. We're here to make your Home by the Sea a reality. Call us. We're available by appointment only at our Cannon Beach Office. Give us a call.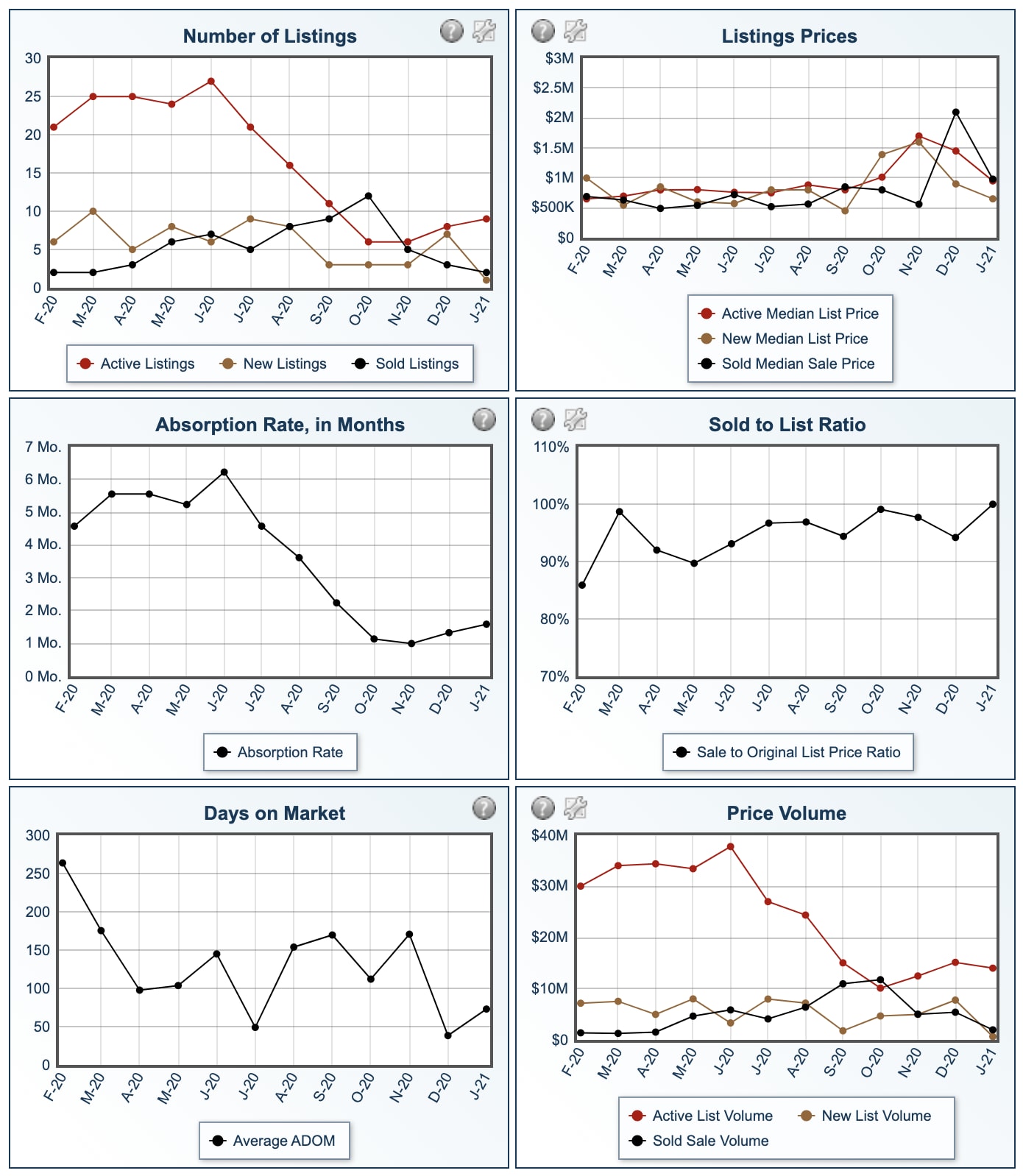 Ready to list and take advantage of this strong sellers market? Call us. We're the top North Coast team. We provide full service interior, exterior and aerial video and photography as well as top online placement and distribution to market your home. We're here to help you realize your maximum financial potential. We're the top North Coast listing team. Home + Sea Team, Cascade Sotheby's International Realty.